ELECTRONIC PRESS KIT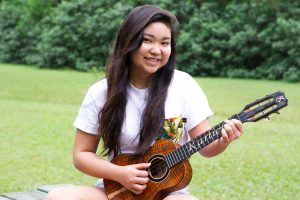 Growing up in Hawaii, Karlie was introduced to the 'ukulele at a young age and quickly fell in love with the little four-stringed instrument, since then now at the age of 16 she has won numerous 'ukulele/vocal competitions such as the prestigious 'Ukulele International Contest, Duke's Ukes, and the 2015 Brown Bags to Stardom.
Karlie has also been credited for her songwriting, winning the Hawaii Book & Music Festival's Songwriting Competition and selected as a semifinalist for the 2017 International Songwriting Competition.
Karlie has fast become known as a creative 'looping' artist, where she uses effect pedals during live performances effectively creating a one-girl band. She covers a wide variety of artists and genres and has fast grown a dedicated following on YouTube.
In 2016 Karlie released her debut EP album titled "Till The End." She followed up with "Have Fun" in 2018, a full-length album which consists of all original compositions that features the unique sound of the 'ukulele, creating her own style of "Pop-R&B-Island."
Honolulu Star-Advertiser columnist John Berger noted –"Karlie's voice is captivating. Her lyrics describe emotional situations teens and adults of all ages can relate to. Her arrangements give the songs a mainstream pop sound worthy of national radio play."
The 'ukulele is synonymous with Hawaii and its rich music culture. Karlie continues to immerse herself in the tradition and at the same time she's also growing and evolving as a musician incorporating the 'ukulele into her style of mainstream Pop and R&B.
BASIC INFO