Follow Me On My Musical Journey
It all started when I was introduced to the ukulele at a young age..
Like most kids growing up in Hawaii Karlie was introduced to the ukulele at a young age and quickly fell in love with the little four-stringed instrument, since then now at the age of 16 Karlie has won numerous ukulele/vocal competitions such as the prestigious Ukulele International Contest, Duke's Ukes, and the 2015 Brown Bags to Stardom.
Karlie has also been credited for her songwriting, winning the Hawaii Book & Music Festival's Songwriting Competition and a semifinalist for the 2017 International Songwriting Competition.
Karlie performs a wide range of genres such as traditional/contemporary Hawaiian, Pop, R&B, and Japanese which can be viewed on her YouTube channel.  Karlie's unique soulful voice surprises many the first time they hear her.
Karlie's debut EP "Till The End" is now available on iTunes and most media outlets.
Follow Karlie on social media to stay updated on her musical journey.
Debut EP "Till The End" Now Available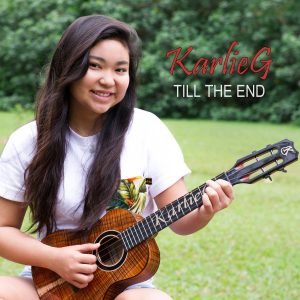 A little bit of info about the EP – Some of you might know me from YouTube where I mainly do acoustic style ukulele cover songs.  This EP is more fully produced but it still includes the ukulele.  I've written all of the songs using the ukulele as for me it's perfect for songwriting!  All the tracks were recorded at Zeo Music.  Imua Garza co-produced, mixed, and basically worked his magic to help me bring my music to life.
Kickstarter – this CD would not have been possible without the support from my backers at the crowdfunding site kickstarter.com I really, really appreciate everyone for supporting and believing in me!